AF TOURS - CONSTANT WITH QUALITY FOR 29 YEARS
We're truly dedicated to make your travel experience as much simple and fun as possible!
Bringing you a modern, comfortable, and connected travel experience is one of our highest priorities and that's why we continuously try to improve your experience when you book anything with us.
We really appreciate and welcome any of suggestions you might have for us, so feel free drop us line anytime.
Our History
Al Fawaz Tours (AFT) was established in the year 1989 in Salalah, Sultanate of Oman. The Head Office of AFT is centrally located in the City of Salalah. The main branch of AFT is located in Muscat.
What We Do?
Al Fawaz Tours is a Destination Management Company based in Sultanate of Oman offering extensive tours & travel related services all over the country. This includes special holiday packages, Hotel reservations and round trips. Al Fawaz has the pioneer and predominant expertise in providing services in the most promising southern Oman; Salalah and Dhofar region.
WHAT WE OFFER?
LIST OF OUR PRODUCTS
AFT presents an array of holiday activities in Sultanate of Oman
EXCURSIONS IN NORTHERN OMAN
EXCURSIONS IN SOUTHERN OMAN
HOLIDAY PACKAGES IN OMAN
ROUND TRIPS
COUNTRY CROSSING AND ADVENTURE TOURS
SEA EXCURSIONS
CAMPING EXPERIENCES, ESPECIALLY IN RUB AL KHALI DESERT
NATURE BASED ACTIVITIES SUCH AS HIKING AND TREKKING
TAILOR-MADE TOURS AND ACTIVITIES
OUR SERVICES
AIRPORT & HOTEL TRANSFERS
VISA ARRANGEMENTS
HOTEL RESERVATIONS
GUIDE SERVICES
EVENT MANAGEMENT
RENT A CAR
CRUISE OPERATIONS - SHORE EXCURSIONS
CHARTERED FLIGHT DESTINATIONS MANAGEMENT
OUR FLEET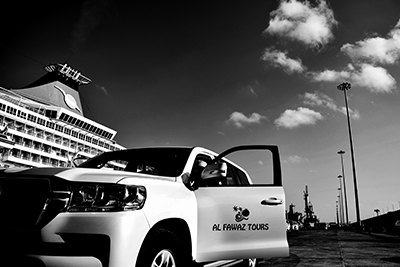 AF Tours offer an impressive fleet of sustainable luxury vehicles equipped with all the latest features and amenities for tours and transfers. We offer a selection of 4x4 Jeeps, luxury sedans, Mini Busses, and motor coaches to travel in style. Impeccably maintained and thoroughly detailed, our vehicle fleet represents one of the finest in Oman